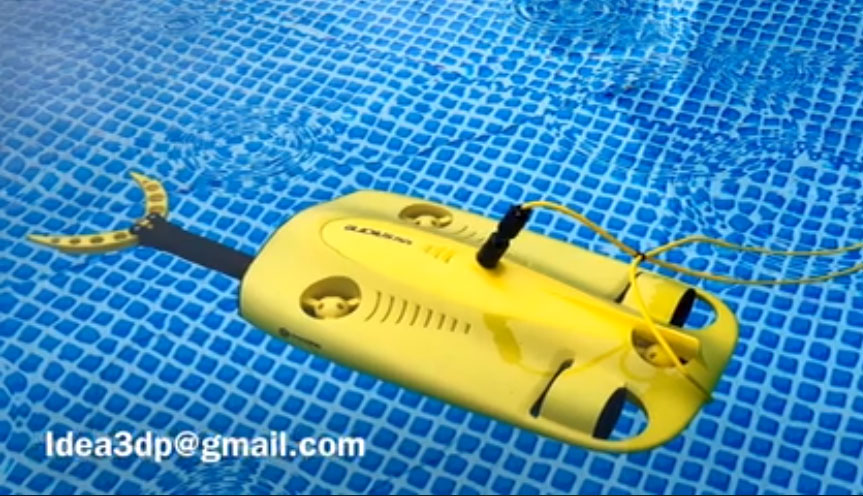 A
Gladius Mini
owner by the name of Ketil has modified his Mini with a full functioning robotic arm which includes a claw or grabber to pick stuff up off the bottom. So far Ketil has said this add-on is still in the prototype stage, but if you search Ketil on the Official Chasing Owners Group on Facebook, you'll find a
full fledged video
of him using the claw and actually grabbing a pair of glasses at the bottom of the pool, mega cool! Anyways, I hope Ketil doesn't mind me sharing this cool photo of his custom robotic arm.
Ketil said he will actually sell this to Gladius Owners once he gets some of the issues sorted out, so if you're interested, you can always try sending him a message at the email address in the photo on his progress or if it's finally up for sale on the market.
I actually contacted a few of the underwater drone companies before I bought my Titan T1, I contacted both Chasing Innovations and QYSEA. Surprisingly QYSEA said they're currently in the testing stage of a grabber for their Fifish V6 and Chasing Innovations claimed they don't plan on coming out with a claw for the Gladius Mini, which was very disappointing considering they seem to have the most stable drone on the market right now.
I think if Chasing Innovations plans to stay in the lead, they'll have to come out with new innovating add-ons for the Gladius Mini. I mean isn't that what their name is all about? "Chasing Innovation!" I was very disappointed to here them say they don't plan on making a claw for the Gladius Mini, maybe with their 3rd generation underwater drone will have a grabber of some sort. I think many Gladius Mini owners are itching for one after reading the comments down below Ketil's video on Facebook! I guess if Chasing never makes one, maybe we can count on some Gladius Mini owners like Ketil to come out with one.
And I must say, it was very cool to see someone come out with such an advanced modification for their underwater drone. I don't think I've seen anything like this for any of the other 10+ underwater drones on the market. Big props to Ketil!